The registration and congress will take place at the UniS building of the University of Bern (Schanzeneckstrasse 1, 3012 Bern), which is right in the center of town, within walking distance from the train-station and the historic center. The infrastructure of the University offers excellent facilities and the academic atmosphere for our congress.
By Air
The closest international airport is Zurich Airport, located a bit outside of Zurich city. From Zurich, Bern is easily reachable by train.
Bern's European airport is located in Belp at a transfer time of around 20 min. to the city center.
By Train
Switzerland's famous train network offers an excellent standard. Bern is perfectly accessible by train from e.g. Zurich, Paris, Berlin, or Milan.
Some Selected Places
Bern, UNESCO world cultural heritage
Within easy walking distance.
© Bern Tourismus
A pure river in the city
So you can cool of after the hot debates.
© Bern Tourismus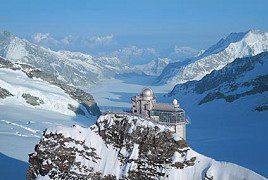 Close to the famous Bernese Oberland
Easily feasible during a one-day trip.
© Bern Tourismus
Uni S, the cafeteria
Freshly cooked fine food.
© University of Bern
Uni S
Modern architecture.
© University of Bern
View of the Uni S
Summer is close.
© University of Bern